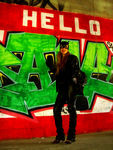 HELLO BOYS,
SURE YOU RECOGNISE ME, I'M LADYKAT, THE HIGH FASHION MASKED LADY.
YOU MET ME ON LA CROISETTE, LAST YEAR, AND THE YEAR BEFORE, AND THE YEAR...
MAYBE YOU JUST SAW ME IN A PRIVATE PARTY? OR IN LE BARON? OR IN A PALACE?...
YOU MISS ME??? DON'T WORRY, I'LL BE BACK IN CANNES !!!